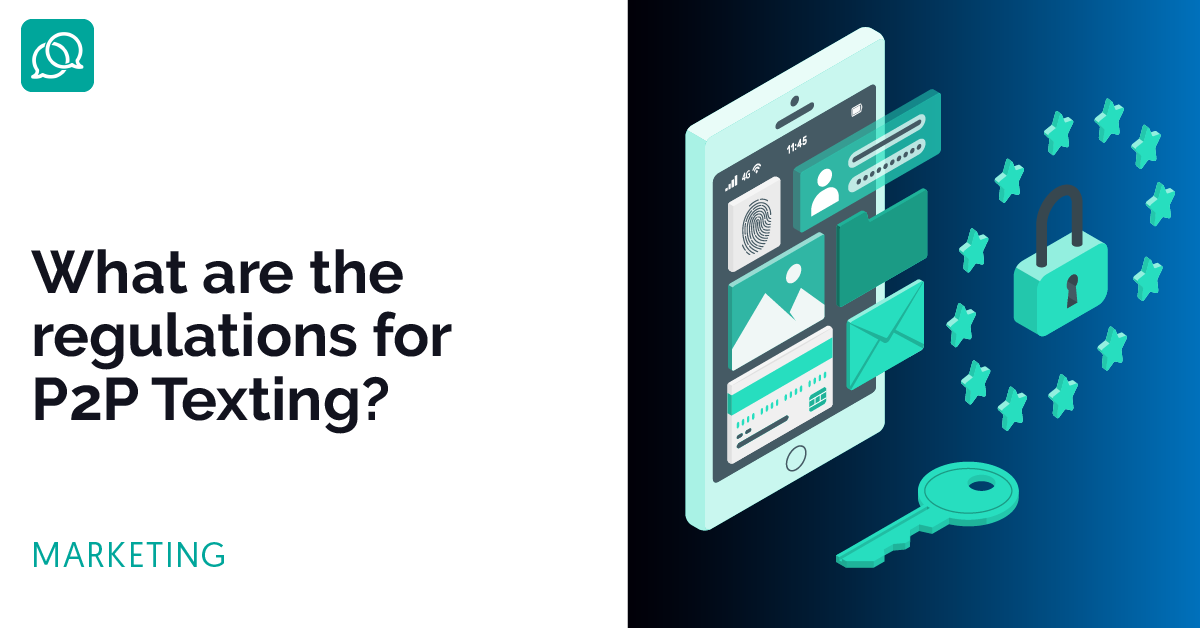 Text message marketing is still a relatively new communications tool. While regulations are still being reconsidered and amended annually, the majority of text marketing is subject to many of the same rules that telemarketing is. However, unregulated text messaging have caused a lot of user frustration and mishandled messaging. Spam messages are increasingly common and easier to spot. Users would prefer to receive messages via text than any other medium, but unless they are personalized and relevant they will quickly ignore you.
How does Peer to Peer Texting work?
This is the benefit of peer to peer texting. Peer to Peer (P2P) is a method of texting which allows businesses to send text messages to anyone with a mobile phone through the use of human agents. Rather than sending a bulk SMS message to thousands of text messages all at once, P2P requires that you send each a unique method of having one-on-one conversations with every single number you text. 
What are the laws surrounding P2P texting?
If you have been thinking about a P2P campaign for a while and wondering what you need to know. Most countries have laws that regulate the frequency, and content of text messaging. 
United States – TCPA and FCC
The Telephone Consumer Protection Act by the Federal Communications Commission, was established to regulate organizations who collect contacts for marketing and protect users who will receive information. The main points from this act are:
Businesses must obtain prior consent (opt-in) to communication before they are allowed to receive communication. 

Even if an organization already has an individual's number there must still be an opt-in to receive communications.

Texts sent to users must provide the sender with the identity of who is sending and also instructions for how to opt-out of communication from the organization.

Opt-Ins are not allowed via text message for the initial point of contact
When are you allowed to send SMS?
Legally, to start sending SMS messages you need to opt-in to receive messages. To do so without receiving opt-in would be a breach of compliance as outlined by the FCC. You can ask users to opt in to your text by showing them the value that your texts provide. What is the value you can offer them? By offering an incentive like exclusive deals, offers and information you can make your users who have opted in feel like they are a valued member of your communications.
Note: Nonprofit organizations are not required to follow the same "opt-in"  requirements as outlined in the TCPA. Although, as a courtesy and providing relevant communication it is a good faith gestures to ask users to opt-in.
How do you build your mailing list?
One of the most effective ways to get numbers on your list is to ask users on social media to sign up to receive communication. This is your form of opt-in. A standard form on your website or a list gathered at one of your events is a great way to capture people's momentum for your cause and campaign. 
However, once you have your list, make sure you are using it effectively and respectfully. Users are trusting you with their information and you as the organization is responsible to not abuse that privilege. Make sure you make it explicitly known to the users how often they will receive messages and what the content of those messages is likely to be. 
What if users want to get off your mailing list?
Finally, to make sure that your user base is happy and only receiving the communication that they want, make sure that you make opting out of communication easy. Typically you want to include in your very first message an opt-out request. Typically it is a keyword like "STOP" or "UNSUBSCRIBE". From there, you will remove them from the list. 
Final thoughts on Peer to Peer Regulations
However you utilize P2P to make sure that you are using it to convey information clearly and keep your subscriber base well informed of how to receive information, communicate it back, and how to unsubscribe should the messaging no longer be relevant to them.