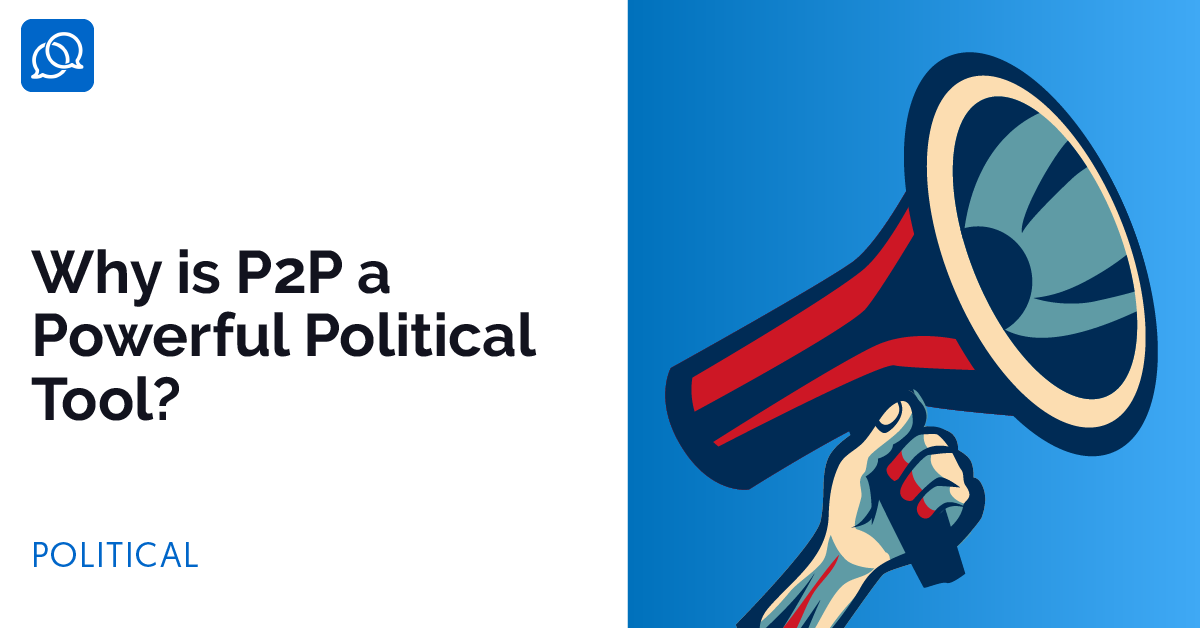 P2P – What you need to know
Where text revolutionized human communication, making it possible to send a message to anyone anytime from any place. P2P texting takes it to the next level by allowing a single user to have conversations with thousands of users one-on-one from your computer.
The reason that peer to peer texting is so effective is because it's both simple to use and powerful in its abilities. Your organization gains the ability to have text conversations one-on-one with your contact list (who have opted in to receive communication) on a massive scale. This gives you direct access to your supporters which you can use to mobilize them, providing voting instructions, or solicit feedback on what issues are important to them in the election an upcoming election or to market to them,.The opportunity to raise funds for your campaign are plentiful, with the ability to send supporters straight to your donation pages. 
Benefits of P2P
Mobilize support
By receiving a text message, you are meeting users where they are and can get them to respond at the moment to either volunteer queries, surveys, or invitations to events. Even better, if you require clarification on any issues it is easy to respond immediately. 
A further benefit that mobile communication allows is that there is an easy to navigate record of interactions with users. If another operator takes over the communication with a user, there is a record of their interactions on the peer to peer platform already. For example, if a user has said that they are interested in attending a rally, make sure you make note of this in their file and invite them when you are having one. 
Personalization
You can easily add in shortcodes that contain the user's name. Want to go the extra mile? Cross-reference them with their nearest polling location and tell them on election day where it is they need to go. 
Templates 
It is easy to use pre-written answers to start conversations, create logic flows, or quickly respond. Peerly lets you add in pre-made templates to facilitate these conversations.
Instead of typing out every single message (which can offer a level of personalization), you can pre-write messages and easily add them into the platform and send them with a few clicks. For example, if you are sending messages specifically about drumming up attention for your candidate's upcoming rally, you can have pre-generated responses about the date, location, what to bring, arranging transportation. This might save only seconds on a one-by-one basis, but across thousands of recipients, it would be hours saved.
Fundraising
You can go directly to users to ask for donations now with a link to your website. 
One of the largest points of friction in the fundraising process is actually getting your donation page in front of users who are willing to donate. After you have conducted your proper opt-in process you will most likely have a list of engaged voters.
Peer to peer text messaging will be one of the most powerful and personal technologies in 2020. Peerly.com offers a risk-free trial on all plans and Peerly's pricing is 50% cheaper than our competitors on average. Visit Peerly.com and start your conversations today.