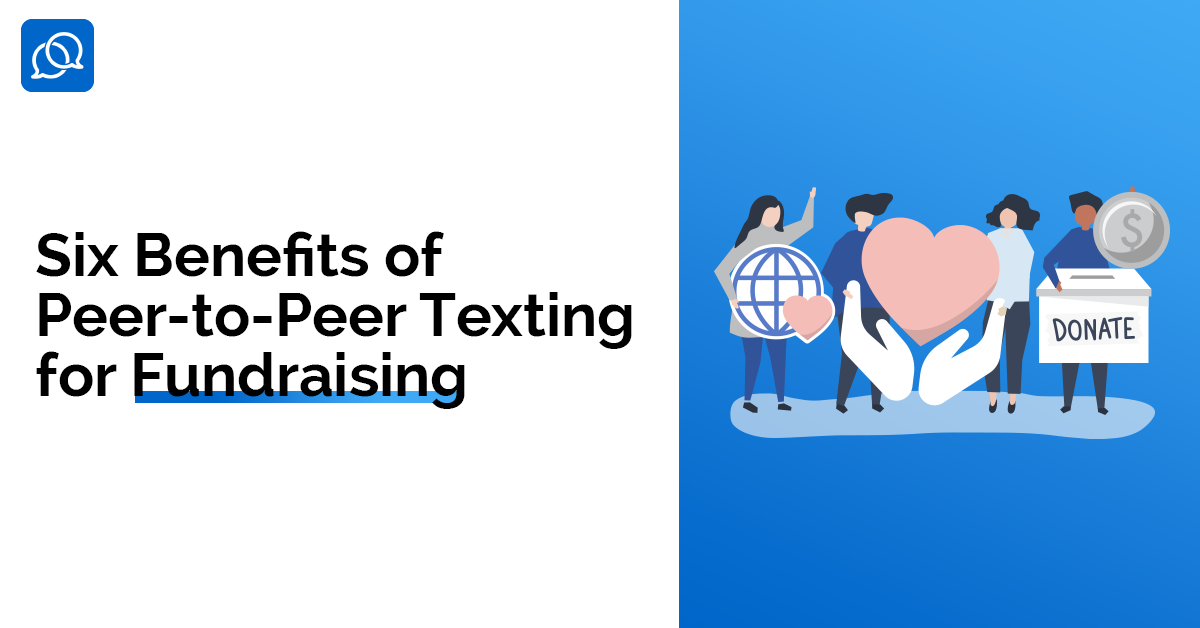 Peer-to-Peer (P2P) Texting is a powerful tool for fundraising. It allows organizations to connect with potential donors where they are likely to spend time: on their mobile phones. Peerly's P2P platform includes the addition of some extra features to supercharge your campaign. TruHD Video Texting, custom fonts and Branded Link Management allow organizations to take their P2P texting efforts to the next level. They offer an even more personalized, targeted, convenient and efficient form of communication. In this blog post, we'll discuss the key benefits of using P2P Texting for fundraising.
Increase Your Fundraising ROI
P2P texting has been proven to have a higher ROI compared to other fundraising methods, such as direct mail or email. With Peerly's TruHD Video Texting, clients can send full 60 second long HD video through P2P Text. They can also include 2,000 characters to their message and fully customize it with Peerly's custom fonts at no extra cost. Utilizing these tools, organizations can create a unique and professional brand experience, further increasing their ROI. With Peerly, organizations can share personal, emotional and impactful video stories through Peerly's TruHD Video Texting. This can result in a higher conversion rate and more donations.
Larger Donations Using P2P Texting
By engaging with potential donors in real-time, P2P texting allows organizations to build relationships. Building relationships allows organizations to gain a deeper understanding of a donor's giving capacity and motivations. Moreover, the use of Peerly's added features provides an extra level of personalization and engagement, leading to larger donations.
More Convenience for Fundraisers
P2P texting enables organizations to reach out to potential donors quickly and easily on their mobile phones. With our Branded Link Management tool, organizations can utilize custom branded short links and dynamic data insertion. In fact, branded links help gain a recipient's trust and more trust means more clicks. We've seen clients improve their click-through rates by 43% with branded links!
More Convenience for Donors
P2P texting offers a high level of convenience for donors, eliminating the need for lengthy forms or complicated websites. Also, donors can make quick and easy donations from anywhere, at any time, directly from their mobile phone. The use of Peerly's TruHD Video Texting allows donors to experience the emotional impact of an organization's mission. Seeing the impact of their donation in real-time makes the giving experience even more convenient and enjoyable.
Increased Speed Frees Up Resources
P2P texting is a fast form of communication, allowing organizations to reach out to thousands of people very quickly. With Peerly's 5x increased speed, organizations can reach more people faster, maximizing the impact of their campaigns. In fact, faster send speeds means fewer clickers, volunteers & resources required to send your messages. This vastly reduces clicking costs and frees up more company resources. 
Scalable Tool for Fundraising
P2P texting is a scalable tool, making it ideal for large-scale campaigns. Organizations can reach a large number of people quickly and efficiently. Peerly now offers 5x increase speed, which can help maximize efforts. Organizations can easily scale communications to reach even more people with Peerly.
In conclusion, P2P texting is a powerful tool for fundraising, offering increased ROI, larger donations, convenience for both organizations and donors, speed, and scalability. By incorporating P2P texting into their fundraising strategy, organizations can enhance their donor engagement and maximize their efforts. Sign up for a Peerly account today and get started.